Piper Real Estate Manages Short Stay Luxury Accommodation In Coolah
The Coolah Shorts Apartments provide short stay accommodation for visitors to our beautiful town Coolah in Central West NSW.

If you are looking for a luxurious modern apartment to make your trip to Coolah memorable, consider this!

These apartments include a fully equipped kitchen and modern bathroom, with r.c. air conditioner, TV and WI-FI. Queen size bed and lounge, complete the comfort.
Located in the heart of Coolah.
Town View or Valley View Apartment.
Two night minimum. Weekly rates available.
BOOKINGS - Call 0429 771 031
Please note: Suitable for couples - access is via stairs, not suitable for children or persons requiring disabled access, apologies.
Contact the office 0429 771 031 or email [email protected] for further details and bookings.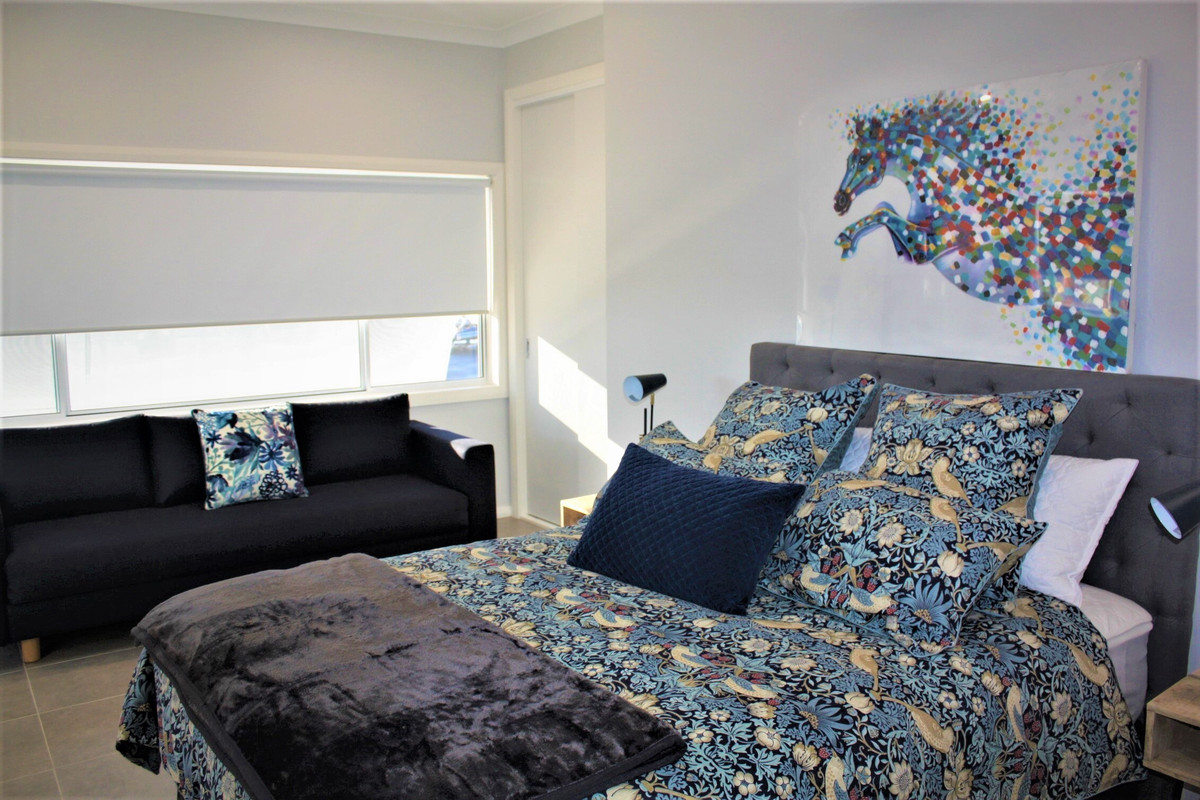 Town View Apartment on Left, Valley View on Right
Testimonials
Thanks from Kerrie and Glenn
By Kerrie
Thank you so much for your flexibility. Wonderful apartment that is stylish, warm and very comfortable after a long road trip. We will be back when visiting family. Lovely town too that is amazingly friendly and kind and worth a visit.
Absolutely Delighted
By John
Didn't know what to expect. Last minute booking. Absolutely delighted. Couldn't expect better. Comfortable, quiet, quality. Fully recommend it.
Everything you need, and more!
By Paddy
Good position, clean, everything you need and more. Friendly service.
Quality UpMarket Accommodation in a small rural town
By Anita
Everything catered for. Relaxing atmosphere and ambience. Very comfy bed. Facilities and appliances that meet all your needs.
These Apartments Do Not Dissapoint!
By Gina
I've stayed here previously and these apartments do not disappoint! Lovely new fittings in both the kitchen and bathroom and lots of 'things' (eg cooking oil, gladwrap, milk, etc) available to use during your stay that makes you feel like you're at home. Easy booking and communication prior to the stay. Will be booking here for all my future Coolah trips!
A little Hidden Gem
By Emma
Great Location, easy check in, fantastic communication. The unit is excellent, so very clean and I will definitely stay again!
First Class Quality
By Fiona Russell
5 Star first class quality unit, fittings and furnishings. Very Clean and Modern.
Wonderful Little Oasis
By Andrew Katsifis
The comfort, cleanliness and minute attention to detail that travellers enjoy. Excellent accommodation and inclusions. I would stay here again.
A pleasant stay
By Jim and Barb
What did you enjoy most about your stay? " The effort that was made to make our stay a pleasant one."
Thank you for the Weekend!
By Gina in Sydney
This apartment is lovely, fresh, modern and clean! Shelley was fantastic at organising a last minute booking for us and making sure we had all the information for arriving after 5pm. This apartment has all the amenities you'd need whilst away from home and the completely new interiors make for a very comfortable stay. The location is central within Coolah and an easy walking distance to food and pubs. I highly recommend The Pipers's place for a stay in Coolah and will definitely book there again.
All the little details made the stay special!
By Georgia in Orange
The apartment was so lovely and the bed was very comfortable. All the little details made the stay special. Everything was Amazing!
Clean, Convenient and Private
By Doug Ritchie
The unit had everything everything required to be self sufficient and the homely touches around the room were a lovely touch. The host was a pleasure to deal with, genuine country hospitality.
Beautifully Appointed Apartment
By Margaret and Andrew
Thankyou! We had a very comfortable night in your beautifully appointed apartment.
A helpful Host
By Krystal Koop
Great bed, good atmosphere and a helpful host. If anyone needed to stay in the area i would recommend here.
Very Likely to Recommend
By Anne Layton
Very impressed with the cleanliness and thoughtful attention to detail. Thankyou.
An excellent standard
By Margaret and Ron Cheers
We wanted to again thank you very much for really looking after us, for your kindness and thoughtfulness.
The way you have decorated and finished the units to such an excellent standard, is a real credit to you and your interior decorating skills.
Everything we needed
By Karen and Steve Bedser
We loved our stay at the apartment! Everything we needed was there, and we will highly recommend it to anyone we know travelling through Coolah.
Thankyou.
A cosy, calm haven
By Donna Bolton in North Sydney
It was a cosy, calm haven from the outside heat. Very nicely furnished. Great location. Looking forward to staying again!
Excellent
By Julie Wellham & Greg Bryant
A light, airy unit, tastefully decorated, great location, all needs met.
The comfortable bed and linen was just OUTSTANDING!!